Derf2440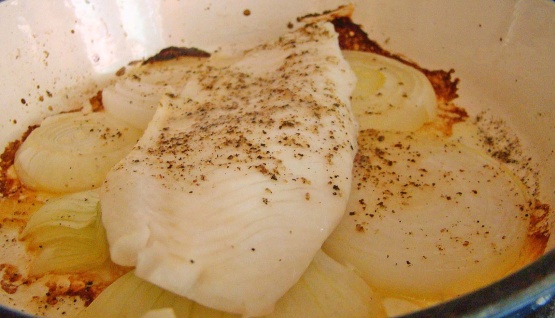 A favorite style of cooking fresh white fish of Isabel Allende. Can be used with any white fish.

Top Review by Cluich
Three stars for the recipe overall, but a bonus star for the bed of Vidalia onion slices. Not only does the onion impart a nice flavor to the fish, but it also serves as a sort of baking rack, keeping the fish out of the olive oil at the bottom of the dish.
Preheat oven to 400 degrees.
Spread olive oil on the bottom of a shallow casserole dish.
Spread sliced onion in the bottom of the casserole dish.
Salt and pepper the tilapia fillets evenly.
Arrange fish on top of onions in dish.
Evenly distribute the lemon juice amongst the tilapia.
Bake in hot oven about 15 minutes or when fish easily flakes with a fork.