MsPia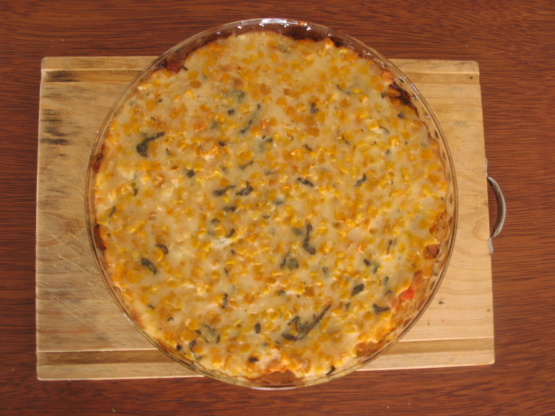 There are many interpretations of this Chilean chicken and corn casserole. In this one, corn cooks with milk until it is slightly thick, then whirls in the food processor until smooth. Serve this slightly sweet dish with pebre, posted separately.

I made this for giggles just because I'm Chilean and I thought some of the other reviewers were harsh on you. I was pleasantly surprised. It was pretty good for a variation of a Traditional Chilean dish. I must admit that it did not taste like any Pastel de Choclo I've ever had but I enjoyed it and I gave you an extra star because I think it's fantastic that you posted a Chilean dish. Thank for sharing this recipe!!
Preheat the oven to 400°F.
Combine milk and corn in a large saucepan, bring it to a boil. Cover, reduce the heat, and simmer 15 minutes. Remove from the heat, let stand, covered 5 minutes. Place the corn mixture in a food processor, process it until smooth. Stir in the basil, 1 tsp of the sugar, and 1/2 teaspoons salt.
Combine broth, onion, bell pepper, carrot, black pepper, garlic and bay leaves in a large saucepan. Bring it to a boil. Cover, reduce heat, and simmer 15 minutes. Add remaining 1/2 teaspoons salt, chicken, and parsley. Cover and cook 10 minutes or until chicken is done. Drain, discard bay leaves.
Place chicken mixture in the bottom of an 8-inch square baking dish coated with cooking spray. Top with the corn mixture, sprinkle evenly with remaining 1 tbsp sugar. Bake at 400°F for 25 minutes.
Preheat broiler. Broil 3 minutes or until lightly browned. Enjoy!
Yield: 4 servings.