Chile Verde (Green Chile Sauce)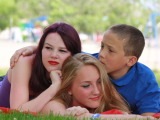 spicy traditional sauce straight from the Land of Enchantment. I found this recipe online a few years ago and I use it often.
Directions
Heat shortening in medium-sized skillet on medium heat.
Saute the onions in shortening.
Add flour and cook for 1 minute.
Add all remaining ingredients and simmer for 20 minutes.
Most Helpful
I substituted wild pig meat from a hog I harvested out of Healdsburg, Calif, in this recipe, and it was fantastic!

What a wonderful basic sauce. It was a little "loose" feeling when I first combined it, but I simmered for about 15 minutes and watched it tighten up to be just like the stuff I'm used to eating in resteraunts. I used olive oil instead of shortening, and it was fine. I made it with homemade chicken stock. I used real garlic and cooked it with the onions. So far I've used this to make enchiladas (yum - much better than a can of green enchilada sauce), and I have plans to make some green eggs and ham with the remaining sauce. :) Very flexible sauce for making anything taste like it came from New Mexico. Thank you so much for sharing!