PaulaG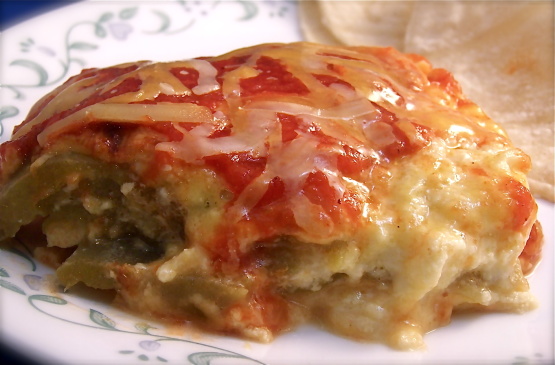 This is another recipes that's been around for years. It tastes like real chile rellenos, but is a lot easier to make. Serve with hot flour and corn tortillas and butter, with a simple salad.

I made a chile relleno casserole with my friend from a recipe of her grandmother's and this was the closest I could find online. The original was probably the best thing I ever ate and I wish I could eat it every day.
The main differences between the two recipes were:
Original had more chiles
No oregano in tomato sauce
Beat egg whites until stiff before adding to evaporated milk mixture
Cook casserole with tomato sauce on top for 20 minutes or until sauce is "dry" in appearance

There were also a few minor differences relating to the sizes of the cans used in cooking but that's not a huge deal. Really an excellent recipe overall and I will definitely be making again. I recommend that future users separate the eggs and beat the whites until stiff because it makes the casserole much lighter and fluffier in texture. Definitely worth it.
Grease a 8-9" square baking dish.
Layer in the following order; half of chilies (split open and laid flat), Jack cheese, remaining chilies, cheddar cheese.
Mix flour, milk and eggs.
Pour over layered ingredients.
Bake at 350 degrees F for 45 minutes.
Pour tomato sauce over top and bake for an additional 15 minutes.
Let stand for 5 minutes before serving.