loof751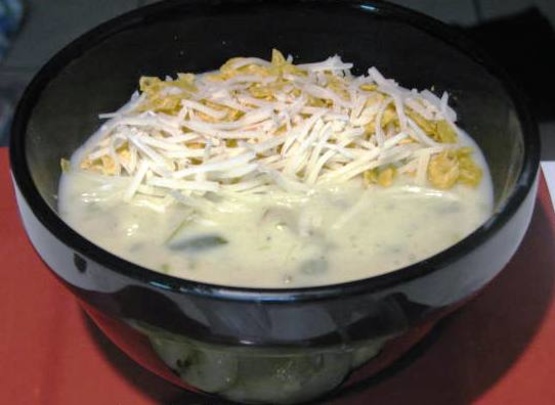 This is a refinement of a dish from a popular local establishment. A friend served ours to the owner and he admitted that this was better! Pure comfort food.

This is a really good soup! I left out the onions (personal preference) and used 3 large poblano peppers and 2 large jalapeno peppers. The peppers added a really nice flavor but it could have been hotter - next time I may add another jalapeno or two. This soup had a really nice texture and went well with the crushed tortilla chips and jack cheese. Thanks for sharing your recipe!
Saute diced onions and chiles in 4 T butter until soft.
Place diced/peeled potatoes into LARGE pot. Cover with chicken broth and water. Add in onions and chiles. Bring to a boil, reduce to simmer. Cook until potatoes are very tender (mushy soft).
Drain, reserving 1/2 of cooking water/broth. Return drained potatoes/chiles/onions to cooking pot.
Place 1/2 of potatoes/onions/chiles into food processor or blender. Puree. Return to puree to cooking pot.
Melt remainin 4 T butter in skillet. Stir in 4 T flour to make a blond roux. Stir in cream (or half-and-half) and reserved cooking broth until warm. Do not boil.
Pour into potato mixture. Heat all until bubbly hot.
While heating soup. Fry tortills strips until browned and drain well.
Serve soup in individual bowls garnished with tortills strips and cheese. Enjoy!