Prep 10 mins
Cook 20 mins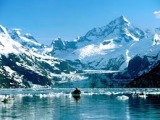 An easy and delicious chicken recipe. The chile jam adds spice and sweetness to the chicken. This recipe comes from Daphne Oz. She serves it with caramelized sweet potatoes and peaches. I will post that recipe, too. It's a great combination, but I love the chicken recipe alone, too! This recipe serves two (2 thighs per person),but you can easily increase the amounts.
Directions
Pat the chicken dry and season both sides with salt and pepper.
Heat the oil in a large skillet (cast iron works great to get a crispy crust on the chicken) over medium-high heat. Put in the chicken thighs. Brown the chicken on one side, giving the chicken time to unstick itself from the pan surface and form a good, crispy coating, about 10 minutes. Flip the chicken and brown for 6-10 minutes, or until you can insert a knife to the bone and no red liquid emerges.
Lower heat to med-low and spoon 1 T of the chile jam over each thigh. Melt the jam over the chicken and on all sides, using tongs to flip and swirl the thighs in the pan. Cook for 1-2 minutes to allow the jam to form a glaze. Remove the thighs to a serving plate and spoon the glaze on top. Scrape up any bits sticking to the bottom of the pan - these will be the crispiest!
Just before serving, squeeze fresh lemon juice ovef the chicken to brighten the flavors and heighten the sweetness and spice.
Opt - serve with Caramelized Sweet Potatoes and Peaches (posted in another of my recipes).
Reviews
Most Helpful
Excellent! I used breasts instead of thighs and they were just fine. Thanks for sharing, LIG!

Delicious, slightly sweet chicken, so easy yet looks so special! Served with the recommended Caramelized Sweet Potatoes and Peaches; these recipes were perfect together. Because the side dish used coconut oil and coconut oil performs better on high heat, I used that instead of olive oil. I couldn't find chile pepper jam, but I found Howard's Hot Pepper Relish, to which I added 2 teaspoons sugar to make it "jam-like". There was just a hint of heat in my sauce. Can't wait to make this again! Made for Spring 2014 Pick A Chef.

We enjoyed this wonderful dish very much. I did have to make a few changes out of necessity though. I only had two very large chicken breasts so I baked them and then added the jalapeno pepper jelly (couldn't find chile jam) during the last 10 minutes of cooking. My hubby really liked the sweetness of the pepper jelly with the bite of the jalapeno bits. Made for the For Your Consideration tag game.