Chile Con Queso Cheeseburger
Ashley Cuoco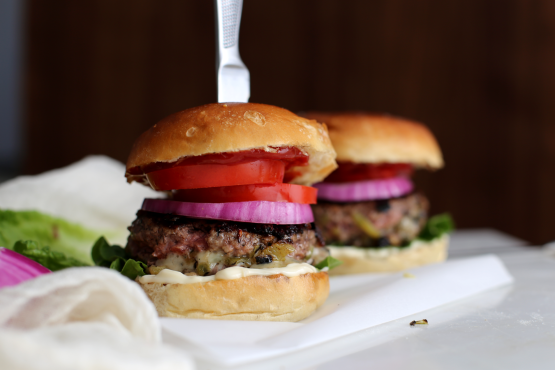 If you love Chile con Queso, sink you teeth into this cheesy gooey burger for a real taste explosion! Have a napkin and some tortilla chips ready to catch what your mouth misses because you will want to save every bite! Beer Recommendation: A rich malty, roasty beer that absorbs the heat and provides a great counterpart to chilies and grilled meat is a good choice to pair with these burgers. If you happen to find a Noche Buena, a great dark beer from Mexico, this would be my first choice. Second would be Negra Modelo, a slightly sweet brew with some fruitiness, it's malty for a Mexican beer and goes well with Anaheim and Jalapenos.

Top Review by lynnep
These were sssooo good!! Don't know if I will ever be able to make a regular hamburger again. Made them for father's day and served some potato chips as the side. Spread chips around everyone's plates so as the burger would drip it would go on the chips. YUMM!!! Making again tonight for 4th of July per hubbies request. thanks NcMystery Shopper!
2

jalapenos

1

large garlic clove, unpeeled

1

tablespoon tomatoes, finely diced into very tiny cubes, no seeds or 1 tablespoon juice
1⁄4 teaspoon cumin
1⁄4 teaspoon chili powder
1⁄2 cup monterey jack cheese, Shredded (you can use Caciotta as well)
1⁄2 cup cheddar cheese or 1⁄2 cup longhorn cheese, shredded
salt & freshly ground black pepper
1 1⁄2 lbs ground beef

4

kaiser rolls or 4 onion topped hamburger buns, split
lettuce leaf, for serving
sliced onion, for serving
sliced tomatoes, for serving
mayonnaise, for serving
ketchup, for serving
Light your grill and when it is heated brush the grate with oil. Put the Anaheims in a small bowl with olive oil and toss to coat. Thread the jalapeños and garlic onto a metal skewer or a wooden one that has been soaked in water and grill until blackened all over. Repeat with the Anaheims using grill tongs to turn. Peel and remove stems and seeds from the chilies and discard. Peel garlic. Add tomatoes to a small bowl. Chop the chiles and garlic and add to the tomatoes. Fold in the cheeses, sprinkle with cumin, and chili powder and season with salt and pepper, toss.
Cut eight 6"squares of wax paper; divide the beef among them. Pat each portion into a 5" round pattie that is a little thicker in the center. Using a 1/4 cup measure, mound one-fourth of the cheese mixture in the centers of 4 patties. Top with the remaining patties; press the edges to seal and pat smooth. Pat the centers so that the burgers are even. Brush with oil and season with salt and pepper. Brush the insides of the rolls with oil.
Brush the grate with a little more oil and grill the burgers over a hot fire, turning once, about 7 minutes for medium to medium-rare meat. Lightly toast the rolls on the grill. Place the burgers on the rolls and top with lettuce leaves, onion and tomato. Serve with mayonnaise and ketchup.