GrandmaG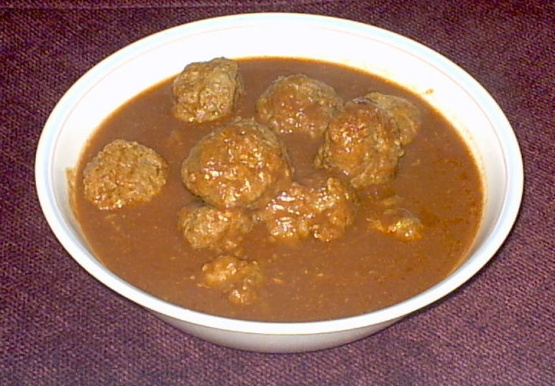 We were feeling like having a bit of Chile Colorado tonight, but weren't looking forward to the hours of watching over it would require with cubed beef; and besides, all the beef was frozen. So I looked in the freezer to see what I could come up with, and hey -- there were meatballs in there! The resulting Chile Colorado Meatballs were "very" tasty, and in addition to being a great dinner item I think will make a really nice potluck and/or appetizer dish in the future. Here's the quick and easy recipe I created for our crockpot.

This was delicious. Sadly I was out of cocoa powder so I didn't get to try it with, but it was still tasty without it. This was super quick and easy to make. Thanks!
In a large bowl, stir together the boiling water and bouillon granules until dissolved.
Add remaining ingredients.
Pour all into either a crockpot and cook on high for 2 to 3 hours (or low for 5 hours), or a large casserole and bake in preheated 350 degree F oven for 45 minutes.
Enjoy! Serve as part of a Mexican-style combination dinner of enchiladas or tamales, rice, and refried beans- the sauce goes really well with other dishes on the plate.
*Note:I prefer using 1 tsp of Maggi Chicken with Chipotle bouillon cube and 1 tsp of Chicken and Tomato bouillon cube instead of 2 tsp beef bouillon; please note that most Maggi bouillon cubes contain 2 tsps, so you'll be using half a cube.
Another note: also, you can add another tsp of bouillon and cup of water to make more sauce if you want to add another pound of meatballs for more servings.