lazyme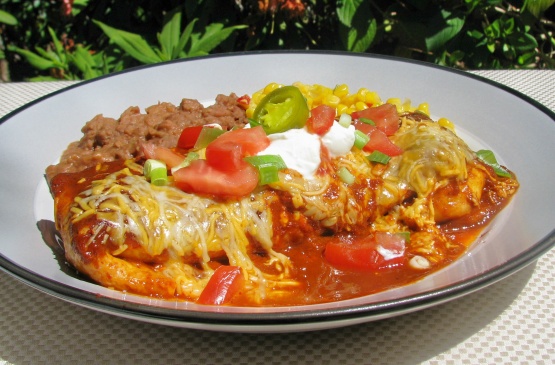 You simply have to try this recipe! It's loaded with flavor, spice you can change 2 steps and make it even more healthy. You can substitute low-fat or fat free sour cream.You can use low fat or fat free cheese. You can use just white meat for the chicken in the recipe. Always look for ways to make any recipe healthier. You can Source:Betty Crocker
Heat oven to 350°F
Spread 1/2 cup enchilada sauce over the bottom of a greased 13x9-inch (3-qt.) glass baking dish. In a medium bowl, stir together chicken, Monterey jack cheese, sour cream, and chiles.
Spoon about 1/3 cup chicken mixture down center of each tortilla. Roll up tortilla;arrange seam side down, in baking dish. Top enchiladas with remaining enchilada sauce.
Sprinkle with Cheddar cheese. Spray sheet of foil with cooking spray; cover baking dish with foil, sprayed side down.
Bake 35 minutes. Remove foil; bake 5-10 minutes longer or until hot and cheese is melted.