Chile Cheese Cornbread in a Jiffy
Alskann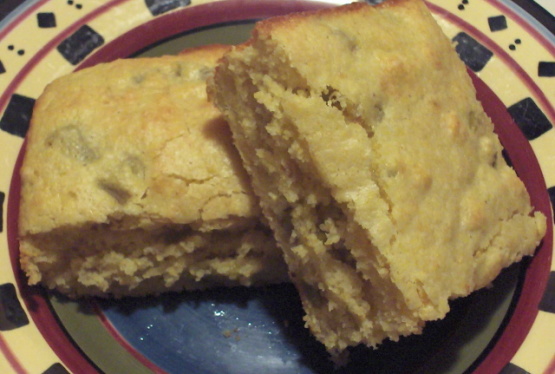 A great side dish to chili or stews. Great by itself as a snack. Simple to make. Always a crowd pleaser.

I made this recipe this morning. It did not cook through in 25 min, the cheese on top burned and it was not as flavorful as I had hoped to be. Made for company coming for lunch and not happy.
Preheat oven to 400 degrees.
Grease a 9x9 square baking dish. (I use stoneware).
Combine all ingredients together in a large mixing bowl. Mix well.
Pour into prepared baking dish.
You can top with a little extra cheese, if desired.
Bake 25 minutes at 400 degrees or until golden brown.
Serve warm with butter.
This can also be made in muffin tins.
Variation: Add crumbled crisp bacon and 1/2 cup sour cream.