This recipe is so delicious, you can eat the meat as main course, or cut it up for burritos and tacos.
5 -6 dried red chilies
2 tablespoons lime juice
1⁄4 teaspoon cumin
2 -3 lbs steak (skirt or flank)
Directions
Rehydrate the dried chiles which will take about 30 minutes and puree.
Whisk the chile puree, the lime juice and cumin together.
Rub the mixture on the meat, cover and let it marinate for at least 2 hours, or overnight if you can.
Bring to room temperature and cook on a medium hot grill to desired doneness.
Reviews
Most Helpful
I had a little bit of trouble with this recipe, although everything worked out well in the end. I had no idea what kind or size red chiles to use. I had some dried ancho chiles here, so I used those. They are really fairly large. When I added them to the blender to puree with the lime juice, they really were not a consistency to adhere to the steak, so I had to add more lime juice. I did halve the recipe as well. We grilled these outdoors (first time since fall!) and really enjoyed them. Made for Rookie Tag Game.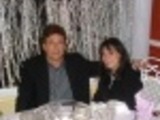 Very good. I tagged this recipe to used some dried chilies and I am glad I did! It was delicious and not as spicy as I expected. We used flank steak and served with salad and tortillas. Thanks for sharing!
So good! I could not find flank or skirt steak, so I used a New York Strip steak and let it marinate for two days, but t turned out great!