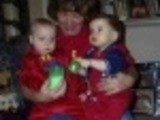 This recipe is better for you than the usual float or rootbeer. It contains milk, less soda and just a little ice cream.
Directions
Pour the milk and root beer into a tall glass.
Add a heaping spoonful of ice cream.
Most Helpful
Tragedy!.....I was really craving a Root Beer Float but i dindn't have ICE CREAM! Thankfully, Trisha W posted this recipe! I never compares to regular, full-fat root beer floats but it was pretty darn good. :D Thanks for Posting this... <3
What a great idea!! My 7 year old knows the "real" thing and could tell the difference, so I added a bit more root beer for him, but my 3 year old happily slurped hers up! I'll be glad to make them for her again! Thanks!