BriS1523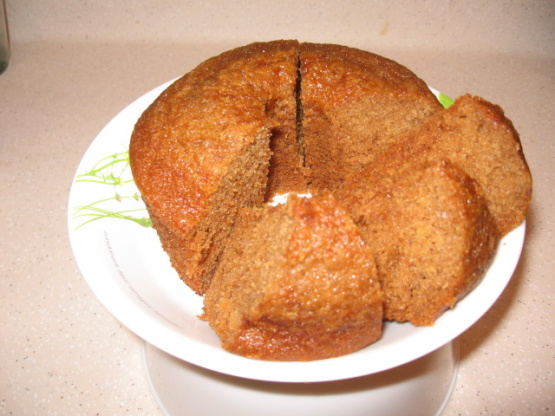 This is very easy and very good! I was real happy how this turned out. It looked perfectly cooked and I followed the directions almost exactly. The only thing I did differently was cooked 10 minutes longer on 350 than what it called for, by accident. I turned the timer off and forgot to turn the heat down right away. Oh well, it turned out perfect to me and dh was proud to take 1/2 of it to work. I was worried about not prepping the pan, but it worked out great!

Made for the Mar Photo Forum Challenge (using coffee), this is an excellent cake using a unique combo of ingredients. Using no butter or milk, it is great for the dairy/lactose intolerant. A coffee flavor is *very* subtle (if there at all), but the honey flavor shines! DH used whipped cream (always does) & I dusted it w/a bit of powd sugar, but plain was just as good. I had to cook it longer than stated, but think I know why. Honey here is unlike honey in the U.S. It is solid at rm temp & has to be heated to measure. I think that created a denser cake batter that required extra baking time. It stuck a bit on 1 side as I removed it from my bundt baking form, but a diff pan choice may fix that. I would say *Thx Chef Gone* but you will always be *Chef Mommie* to me. Loved this cake! :-)
Beat the eggs well, add sugar and beat at high speed until light & creamy.
Add oil and honey, beating at medium speed until well blended.
Combine dry ingredients and add to mixture alternately with coffee.
Pour into an ungreased 10" tube pan.
Bake at 350º for 15 minutes, then reduce heat to 325 degrees and bake for one hour longer.
When cake is done, invert and cool completely before removing from pan.
If it sticks before removing pan, run a knife around the edges to loosen.