PanNan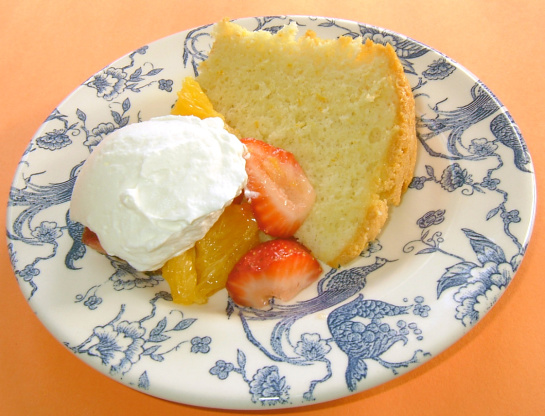 I have not tried this recipe. I got it from a recipe box from a estate sale.

I often make chiffon cake. Because I liked soft chiffon cake, I reduced some flour and baking powder. And I reduced one egg yolk. I did not put oil, but it was very good. When I made chiffon cake, I did this in the same way because I always made it without oil. Yummy!! The are light and flavorful. Thank you very much!
Preheat oven to 325.
Sift flour once, then measure, sift again with baking powder.
Add sugar, salt and vanilla.
Then make a well out of sugar and flour, add egg yolks, mazola oil, water, and grated orange rind.
Then mix well with electric mixer.
Place egg whites in bowl with cream of tartar, beat until egg whites stand in peaks, then pour flour mixture over egg whites a little at a time. Fold in with rubber or wooden spatula, Do Not beat just stir enough to mix.
Bake in either layer cake or tube pan, if in tube pan bake at 325 for 70-70 minutes. If in layer pan bake at about 350 for about 45-50 minutes.
Do Not Grease Pan.