Chickpeas With Spinach (Greek)
PaulaG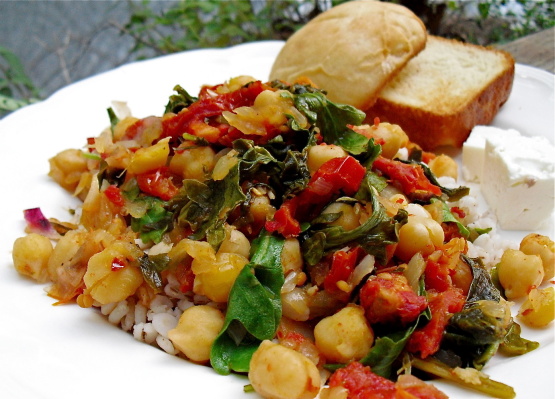 Nothing fancy about this dish - just good eating. Round off with some feta cheese and crusty bread.

Top Review by alydes
We love this dish! My hubby is a vegetarian and I am always looking for easy vegetarian meals that make everyone happy :) The only think I do differently is I use fresh spinach as i do not like the taste of frozen spinach. Like many others I was thinking I was going to need to umph it up a little with more spice, so I had them ready but it was completely not needed. Perfect as is :)
In a large saucepan, over medium heat, saute the onions and garlic in the olive oil until the onions are tender.
Add the chickpeas, tomatoes, pepper flakes (to suit your taste), and oregano,and paprika.
Cover and simmer for about 18 minutes, stirring occasionally.
Add spinach and cook about 7 minutes longer, or until spinach is cooked.
Add the lemon juice (I usually like to add the juice of about 1 1/2 lemons. Add the juice of 1 lemon, taste and adjust to your own, personal taste), salt and pepper.