Marmies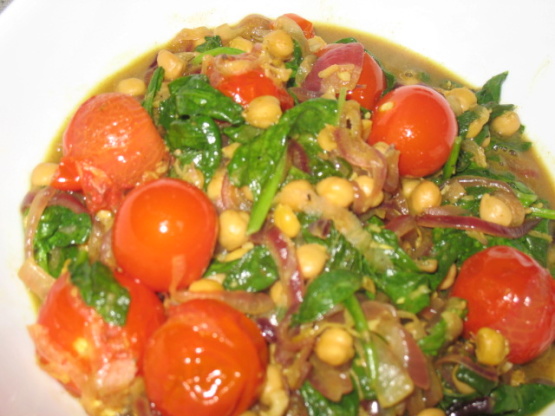 This is a Bill Granger recipe from bill's food.

I was craving chick peas and brown rice last night. So I made this for my vegetarian daughter and I. It smelled wonderful cooking and was pretty to look at, we both loved it! I served it with brown and wild rice and it was amazing! My husband the meat eater likes it too!! thank you for posting this recipe I will make it again!!!
Heat a large deep frying pan over a medium to high heat.
Add the oil, onion, garlic, ginger, chilli and salt.
Cook, stirring, for 5 minutes, or until the onions are soft.
Add the chickpeas, water, cumin, turmeric and pepper and cook for 5 minutes, or until the water evaporates.
Add the tomatoes and cook for another 2 minutes to soften.
Remove from the heat, stir through lemon juice and taste for seasoning.
Stir through spinach and set aside while spinach wilts slightly, then serve.