3 Reviews
Most Helpful
Newest
Highest Rating
Really nice healthy-tasting soup that hit's the spot on a chilly evening. I made this exactly as posted, using dried garbanzo beans (which was new to me); however, I did decrease the amount of spinach. I had a 9-oz. bag of baby spinach, which I did not chop, and it was more than enough. I was able to maintain somewhat of a soup consistency, although it was pleasantly thick. Next time, I would definitely double this recipe, as I wish I had more and feel this doesn't serve 4 if used as a main meal. Made in honor of Bayhill's Week 7 Football Pool win!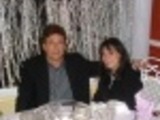 Very good soup - I did add a little lemon juice as suggested by AmandaInOz. Thanks for posting made for Aussie/NZ Recipe Swap #20.

Very nice, rich flavour! This is really more of a stew than a soup. If you want a soup you'll need to at least halve the spinach. We enjoyed it as is but felt that a little lemon juice would have really lifted the tomato flavour. Using dried chickpeas, rather than canned, is also a must. Hearty and filling. Thanks Bayhill!
Chickpea Soup With Spinach (Potje De Garbanzo Con Acelga)