Chickpea Salad With Lemon, Parmesan, and Fresh Herbs
Annacia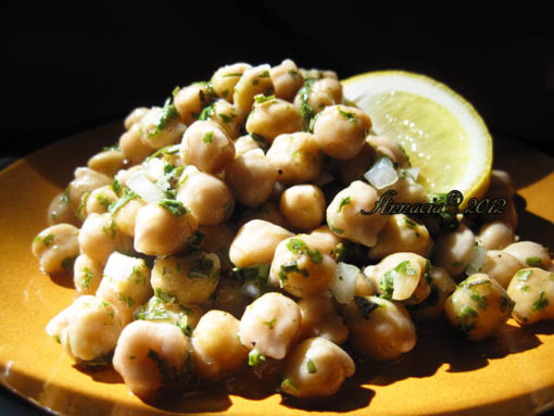 From Bon Appetit, April 2011. Can easily be tweaked to suit your taste. For a spicy version, add cilantro and red onion or shallots. For curried version, add some curry powder. Very light and refreshing and makes an excellent side dish.

Absolutely love this! I tasted it before adding the parm and decided that it was marvelous as it was so skipped the cheese with it's added fat. You just can't get any easier and you have to love that. Lemon is one of my fav things and in this recipe it's no shy violet it stands up and sings beautifully. This one is a keeper.
Combine rinsed and drained chickpeas, chopped basil, chopped Italian parsley, fresh lemon juice, olive oil, and garlic in medium bowl. Add Parmesan cheese and toss gently to blend all ingredients thoroughly. Season chickpea salad to taste with coarse kosher salt and freshly ground pepper. DO AHEAD Chickpea salad can be made 4 hours ahead. Cover and refrigerate. Serve salad chilled or at room temperature.