Chickpea Salad With Garlic-Cumin Vinaigrette
This is a very healthy, herb based salad. Has a nice strong cilantro taste, making it slightly spicey, but still refreshing.
Directions
Drain and rinse canned chickpeas.
Toss beans in a bowl with the onions.
For the Vinaigrette: whisk olive oil with garlic, jalapeno, herbs, lemon juice, salt and pepper.
Let stand for 30 minutes longer.
Add cilantro leaves as garnish. Serve at room temperature.
Preparation time does not include "standing" time.
Most Helpful
This was a tasty recipe that was great as a packable lunch. I made this exactly as posted, except I used cumin powder instead of cumin seed. The vinaigrette has a lovely flavor to it. For the fresh herbs, I used parsley and cilantro, which gave it a really verdant flavor. I was generous with the salt and pepper, as I find chick peas can use it. Thanks for sharing this healthy recipe! Made for Spring PAC 2010.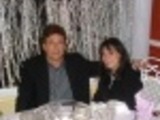 Wow! I don't mind chickpeas but let's face it they can be a bit bland. This was a wonderful way to liven them up. A really nice citrus theme that was wonderful served along with some chicken kebabs and pineapple slices. Only change I made is that red jalapenos aren't available locally so I ommitted them.

I tagged this thinking that a chickpea salad sounds delicious, until I saw the 1 1/2 cups diced red onions! I'm not an onion fan! I started assembling this thinking that it can only be disaster! I can attest that it turned out great, thanks to the complimentary vinaigrette. I love this salad! I served it on a bed of iceberg letture with some avocado. Thanks, Morgainegeiser! Made for Aussie NZ Recipe Swap #22.