Chickpea Salad With Cumin and Lemon
This is a recipe from the Coup de Pouce. This is an express recipe.
Directions
Cut each pita bread in 8 slices. Put slices on a baking sheet and cook under the preheated grill 1 to 2 minutes or until crispy. In a large bowl, with a whisk, mix lemon juice, oil, cumin, salt and cayenne pepper. Add chickpeas, tomatoes, cucumber, bell pepper, green onions, nuts and mint. Stir.
Put 2 lettuce leaves on each bowl (4 bowls) and distribute chickpea salad. Sprinkle with feta cheese. Serve with pita slices.
Reviews
Most Helpful
What a delightful salad! I love chickpeas but am not a big fan of cumin; however, the spices were balances perfectly in this. I used a regular cucumber, tomatoes, and light green peppers that were all straight from the farm. The mint, walnuts, and feta really boosted this up, I think. I doubled the recipe and my DBF will be taking this to work for lunch all weeklong! Made by a Tasty Tester for ZWT9.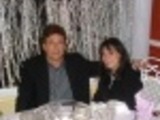 Delicious! I loved the combination of spices. I used a regular cucumber which was peeled and seeded prior to chopping. The salad was made a few hours before serving and refrigerated. The flavors blended beautifully. Made for ZWT9.
Really yummy. I swapped zucchini for the cucumber because I like it a lot more, lol. The only other change was that I used a yellow pepper because I didn't have a green one. It's easy, very tasty and healthy. That combination equals a winning recipe in my book.