Katzen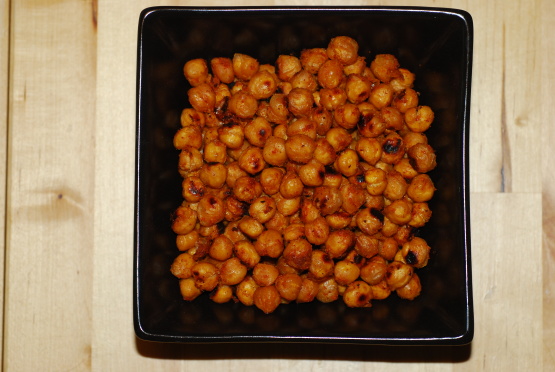 You can sprinkle these on salads or use them for crunchy chickpea tacos! They get their crunch from baking in the oven.

Top Review by Katzen
Super yum! Great for snacking, and as Deb said, they'd be delish in salads. I wish I'd have given mine an extra 5 minutes, I was worried they'd be too well done (never know with my oven), so I set it a bit early - next time I'll leave them in the full time to get the full-on crunch. Thanks, planthappymamma, for the great recipe! Made for Veggie Swap 28 - September.
Preheat oven to 400 degrees.
While chickpeas are in a colander, pat them dry with a paper towel to remove excess water.
In a large mixing bowl, toss chickpeas with the lime juice, olive oil, and seasonings.
Place chickpeas in a single layer on a baking sheet.
Bake for 35-40 minutes or until crisp and golden brown.