Parsley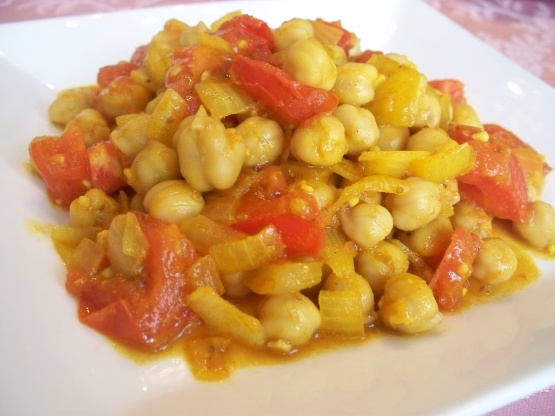 This is from a great old TV programme called "food and drink" sadly it is no more but I have kept this recipe on a piece of paper for years although I know it by heart the cat has just shredded the original so it is now here where she can't get it ;)

Fantastic! This does have great flavor, I really enjoyed this and it was super fast and easy to make with things I already have on hand. I used low sodium canned tomatoes, and even skipped out of the salt all together - Still good. Parsley is right, cabbage or spinach would have been awesome in this. A keeper, thank you!
Heat a deep saucepan or a medium sized wok and add the oil or butter followed by the onions and garlic.
Fry the mixture till the onions are caramelised. Then add the salt, cumin, coriander, turmeric and red chilli powders. Mix for a minute and tip in the tomatoes. Cook the sauce until it begins to thicken.
Add ¼ cup of water and stir. Then tip in the chickpeas and mix. Mash a few of the chickpeas while mixing.
Cover and simmer for 5 minutes. Then add the ginger and the garam masala.
Cook for another minute and serve.