Chickpea Chicken Noodle Soup
JustJanS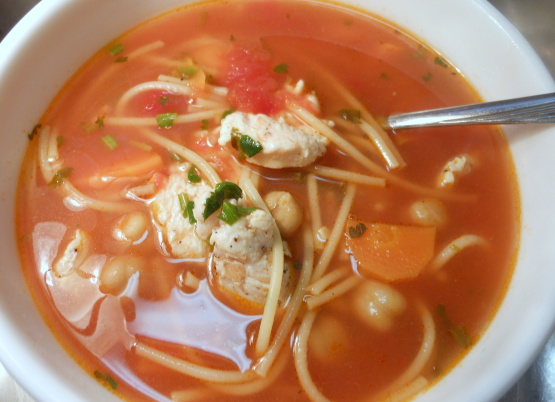 Recipe comes from the Food Network magazine. Looks (and sounds) healthy and delicious!

Nancy, this is a great recipe and I'm so glad you posted it. I changed it ever so slightly using only 3 teaspoons of oil to toast the spaghetti (that worked perfectly, and better than I expected) and adding in some lemon juice and harissa at the end (cumin and fresh coriander/cilantro seem to go well with both). The recipe would read even lower fat and healthier if the chicken breasts had been worded 2 boneless skinless chicken breast filets (around 3 g fat rather than the 26 g that's showing in the detailed nutritional data) so my recipe was around a quarter of the listed fat!
Heat oil in a large pot over medium-high heat. Add the spaghetti and cook, stirring, until lightly toasted, about 2 minutes. Add the carrot, garlic, cumin, cinnamon and half of the cilantro; cook, stirring, unti the spices are toasted about 1 minute. Add the chicken broth, chickpeas, diced tomatoes, 1 cup water, salt and pepper to taste. Cover and bring to a simmer; then reduce the heat to medium low and cook until the spaghetti is just tender, about 8 more minutes. Season the chicken with salt and pepper and add it to the soup. Simmer until cooked through, about 2 minutes. Add the remaining cilantro and season with salt and pepper. (.