Chickpea, Asparagus and Corn Saute'
dojemi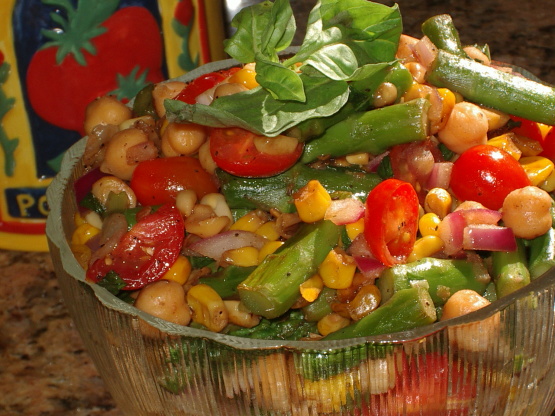 This is a Weight Watchers recipe for both the Core and Flex programs. Point value 3. I found it a bit bland and tweaked it with 2 packets of Splenda. I have also added a 14 ounce can of quartered artichoke hearts to this recipe. I've made some changes which I've mentioned at the end of the instructions.

When I made this recipe, I added the onion to the garlic before adding the corn. I left the tomatoes out for my husband but added them for me. I also thought it was bland, but with salt and pepper added, it was great! I served over over brown rice (2 pts for 1/2 cup for all you WWs out there). I will definitely make this again! Oh, and it changed my husband's mind about aparagus...can't beat that!
Heat the oil in a large nonstick skillet over nedium-high heat.
Add the garlic and cook, stirring constantly until fragrant, about 30 seconds.
Add the corn and cook, stirring occasionally, until lightly browned, about 2 minutes.
Add the asparagus and cook, stiring occasionally, until bright green, about 3 minutes.
Add the chickpeas and cook, stirring occasionally, until asparagus are tender, about 2 minutes.
Remove the skillet from the heat; stir in the tomatoes, onion, basil, salt and pepper.
Serve right away or at room temperature.
NOTE:.
1) I add the onions right after the garlic and saute' for about 5 minutes.
2) I parboil the asparagus for 3 minutes prior to adding.
3) I add the tomatoes at the very end once heat is turned off -- they stay plumper that way.