Chickpea, Artichoke Heart, and Tomato Salad With Arugula
BB2011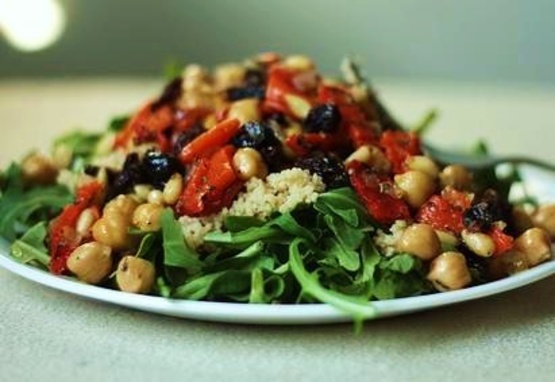 From Vegetarian Times May/June 2010: The hearty 3/4 cup serving of chickpeas in this salad packs about 11 grams of protein and 9 grams of fiber. Artichoke hearts, tomatoes, and baby arugula add a rainbow of antioxidants, including lycopene, beta-carotene, and vitamin C. Nutrition facts: 345 calories, 13g protein, 15g fat

This is a fantastic main dish salad. I have also tried it with a basil lemon vinaigrette & liked to complement of the fresh basil (lemon, olive oil, dijon, & fresh chiffonade basil). Yum.
Toss together chickpeas, artichoke hearts, tomatoes, olives (if using), and parsley in bowl.
Season vinaigrette with sriracha. Toss chickpea mixture with vinaigrette, then stir inarugula and feta, if using. Season with salt and pepper, if desired.