Chickpea and Tuna Cakes With Lemon Cream
PaulaG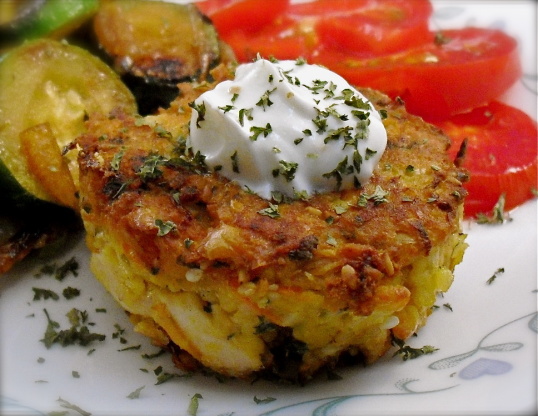 This is a tasty twist to the traditional tuna cake. The chickpeas are healthy and go very nicely with tuna and the zesty flavor of fresh lemon.

I didn't try it yet, but definitely will. Regarding the negative experiences with the dish falling apart: isn't that due to the acid of the lemon? A little bit of mustard could resolve that issue. Will report later :)
In a small bowl, mix ingredients for sauce (sour cream, lemon juice and lemon zest). Let sit in refrigerator.
In a mini chopper or mixer, blitz the chickpeas with the sesame seeds, lemon juice and garlic. Some chickpea texture is nice, but you can make it smoother if you want to. With a rubber spatula, spoon mixutre into a medium bowl and add tuna, egg, carrot, celery salt, paprika and pepper. Mix well.
Preheat a large nonstick frying pan to medium heat and add olive oil. Make 6 equal patties from tuna mixure. Place in the pan and flatten slightly with a spatula. Let cook for 2-4 minutes on each side, until cooked through.
Immediately serve each cake with a dollop of the lemon cream and sprinkle with parsley or cilantro.