Chickpea and Spinach Salad With Cumin Dressing and Yogurt Sauce
berry271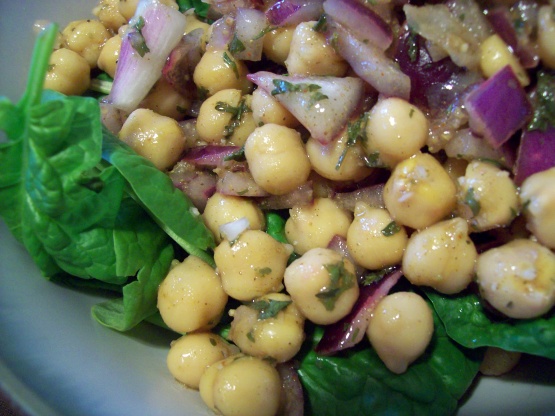 I saw Ellie Krieger make this on the Food Network on her show, Healthy Appetite. I made it for a party this weekend, and was asked for the recipe. It is very light, but very tasty! See what you think!

Made tonight to go along with our supper. It had a nice zip to it. I omitted the yogurt sauce, as we try to avoid a lot of dairy, but it seemed to taste fine without it. This recipe can be found (to serve 4) in Ellie Krieger's book The Food You Crave.
In a medium bowl, combine the chickpeas, parsley and onion.
In a small bowl, whisk together the olive oil, lemon juice, lemon zest, cumin, cayenne pepper, salt and pepper.
Pour the dressing over the chickpea mixture and toss to combine.
To make the Yogurt Sauce:.
In a small bowl, stir together the yogurt, orange zest, orange juice and honey.
Serve the chickpea salad over a bed of spinach leaves.
Top with the yogurt sauce and a sprinkle of mint, if using.