Chickpea and Roasted Nut Dip
Rita1652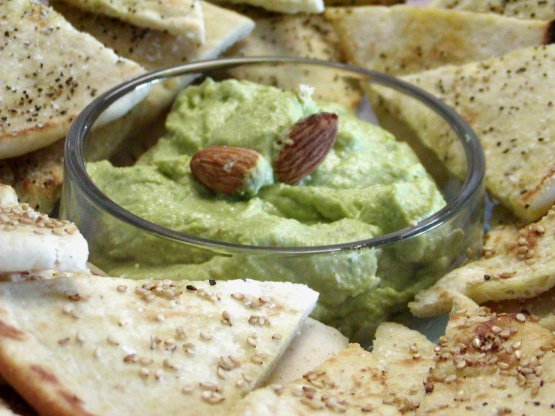 Chickpeas processed with roasted nuts, lemon juice and fresh chopped coriander is yet another variation on a hummus dip. Like most people I just love hummus - in any form! So I really love trying any variation I come across. This one, I can promise, is quite different from others: for me it certainly passes the scrumptiousness test! Like other dips, it can obviously also be used as a spread on sandwiches. I cannot remember now just where I got this recipe from, but from the way I had it filed in Word, it was obviously from a website, possibly the Edgell website, as it specified that Edgell Chick Peas be used.

Top Review by Nikoma
This was good but slightly on the bland side. Made a double batch for a party adding extra lemon and cilantro. Everyone still agreed it needed a bit more pop. On the other hand I LOVED the consistency of this hummus like dip! Way more then regular tahini/oil chickpea spreads. This combo is much superior! I'm sure I'll use this recipe as a base and play with it a bit. Maybe adding some garlic and lime juice. Thanks for the recipe!
Place cashew nuts (or almonds), chickpeas, reserved brine, lemon juice and coriander into a blender or food processor and puree until smooth.
Season to taste with salt and pepper.
Spoon into a serving dish, drizzle with a little olive oil and sprinkle with extra chopped cashews or slivered almonds depending on which ones you have used in the dip.