Annacia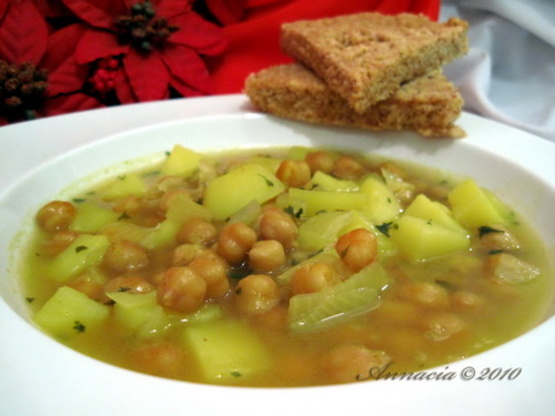 We are currently in Kunanurra Western Australia where they grow great chickpeas. I found this recipe on a leaflet in a bag of chickpeas I just bought. Prep time doesn't take the soaking of the chickpeas into account.

With the exception of using a light veggie broth instead of just water I made this as written and it's really a delight. The lemon adds the perfect touch to bring out the very best of the ingredients. Goodness (both health and taste wise) in a bowl. I served it with some healthy cornbread that I had made the day before for another use.
Put chickpeas onions and 8 cups of water into a pot and bring to the boil.
Cover partially, turn heat to low and simmer for 1 hour.
Add the potatoes, salt, spices and another 3/4 cup of water.
Bring back to the boil, then reduce the heat and simmer on low for a further 1 1/2 hours.
Stir in the lemon juice, check to see if it needs more salt and pepper, then serve with a sprinkle of parsley over each bowl of soup.