Chickety China the Chinese Chicken
Mika G.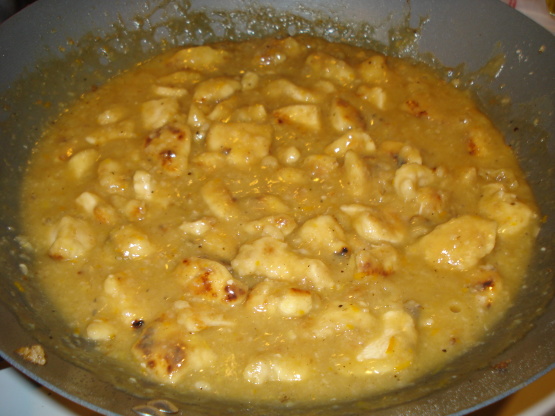 Orange chicken just like you get it for take-out, with more chicken and less breading. Even the sauce turns out to be smooth and a pleasing bright orange.

Absolutely brilliant! The sauce was just the right consistency for us and we also added red pepper flakes like another reviewer. Served with boiled white rice. Thanks for posting!
In a small food processor, process the garlic, zests, ginger, salt and sugar into a paste. Add that and the sauce liquids into a small sauce pan and simmer for about ten minutes.
Meanwhile, heat a wok to high heat. Add chicken, flour and salt to a large plastic bag and shake to coat chicken. Add oil to wok and add chicken immediately, stirring to keep from sticking. Fry the chicken until golden brown, then remove for a moment and drain oil. Return the chicken to the work with the sauce and add cornstarch. The sauce will thicken as soon as it comes to boil, and when it does remove the wok from the heat. Stir, and serve with rice.