Chicken Wraps With Nam Jihm Dressing
invictus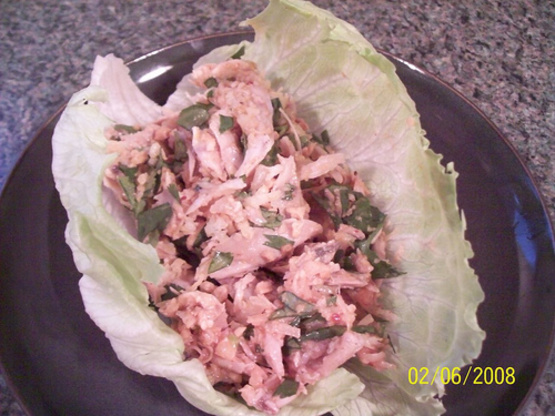 A very quick wrap of chicken in lettuce leaves, uses cooked chicken.
Make the Nam Jihm dressing. Using a pestle and mortar, pound the chillies, ginger, coriander and garlic with the salt.
Add to this the limejuice, sugar and fish sauce. It should taste hot, sour and sweet.
For the wraps, mix the chicken together with the remaining wrap ingredients and stir in 2 tablespoons of the Nam Jihm dressing.
Spoon the mixture into the chosen leaves, sprinkle with the rice powder and serve immediately.
Cooks Notes:.
Nam Jihm means chilli lime.