Chicken With Zucchini and Roasted Pepper Wraps
Rita1652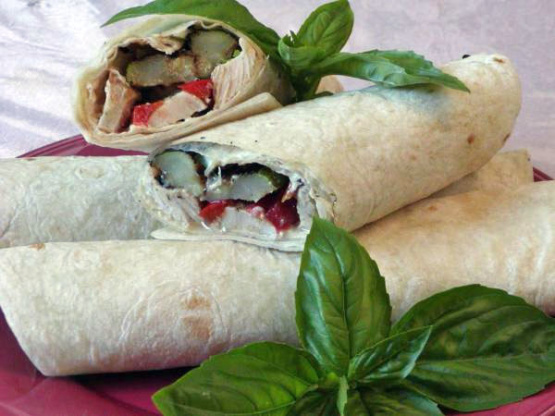 Grilled rosemary breast of chicken with grilled zucchini and roasted pepper wrap with a creamy mustard cheese. You can slice each wrap into quarters and serve as an appetizer.I`ve made these with provolone cheese in place of mozzarella cheese for more sharpness.

Yum!!! I used these for a romantic trip to the park. I kept them slightly chilled and wow, DH and I both adored them. We served them with a Savignon Blanc and there were perfect. I used Low Fat Cream cheese and 2% mozzarella and a mix of sweet red and yellow peppers = Fantastic!
Mix together olive oil, lemon juice, garlic, rosemary, sugar, salt and pepper.
Add chicken breast and zucchini to olive to marinade and marinade for 30 minutes.
Meanwhile mix Honey Dijon and cream cheese together.
Set aside.
Place chicken on a hot well seasoned (OILED) grill cook for 20 25 minutes till juices run clear.
Cover with foil and let sit for 10-15 minutes.
Grill zucchini till browned on both sides.
About 4-5 minutes.
Wrap tortillas in foil and heat on grill just to warm.
On each warmed tortilla spread 1/4 cream cheese mixture on each.
Lay 1 ounce fresh mozzarella on the cream cheese mixture.
Follow with 1/4 basil leaves.
Slice cooked chicken into thin slices.
Lay 1/4 chicken on the cheese follow with basil, peppers and zucchini.
Roll each tortilla a up and enjoy.