Chicken With Walnuts, Bell Peppers (Capsicum) and Green Onions
threeovens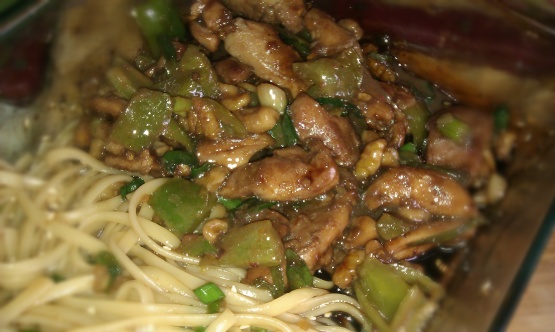 Twenty-plus years ago, a sister introduced me to this recipe -- from a 1977 Better Homes and Gardens Oriental Cookbook. The original version (which my sister follows faithfully) is very similar to Kimke's Chicken and Walnuts. Here is my version, which I think is different enough to be sent in and enjoyed. It is saucier. Also, our past exchange students want to refer to my version.
I made this recipe this evening for a family dinner and increased it by about a quarter to have enough for second helpings. I followed the directions and didn't improvise much, other than using one green, one red, and one yellow bell pepper to add extra color, and using low sodium soy sauce. I'm happy to report that it was a hit! Turned out abolutely perfect and was delicious...a change of pace from our usual fare. I will definitely make this often in the future.
2 1⁄4 lbs chicken breasts, diced into one-inch pieces (I have made this with chicken thigh meat and it works fine)

2

large green bell peppers, diced into one-inch pieces (red peppers are okay if that is what you have)

10

green onions, chopped into one-inch slices (use white and green bits)
1 1⁄4 cups walnuts, halves broken in half again (or more)

9

tablespoons soy sauce

6

tablespoons Chinese wine or 6 tablespoons dry sherry or 6 tablespoons water

5

teaspoons cornstarch (cornflour)

2

tablespoons water

1

tablespoon fresh ginger, chopped finely
1⁄4 teaspoon red chili pepper flakes

1

teaspoon sugar (use more if you like sweet)

2 -4

tablespoons vegetable oil
Chop chicken, walnuts, bell peppers, green onions and ginger. I sometimes do this in the morning (or the night before), and put the components in the refrigerator, in covered containers.
If you chop ahead of time, store chicken on its own, store onions and peppers together, store walnuts on their own, and store ginger on its own. If you chop ahead of time, take all items out of fridge at least two hours before final cooking.
For sauce, put cornstarch into bowl. Stir in soy sauce. Stir in Chinese cooking wine (or substitutes), ginger, chilli and sugar. Don't add water yet. Set aside.
Do all cooking in a wok if you can.
Saute bell peppers and onions in two tablespoons oil for two minutes. Stir frequently. Remove from heat, and set aside.
Saute walnuts in same pan for one minute (don't add more oil yet). Stir frequently. Remove from heat, and set aside.
Saute half the chicken pieces in same pan until cooked (first add two tablespoons of oil). Stir frequently. Remove from heat, and set aside.
Saute other half of chicken pieces until cooked (probably don't add more oil). Stir frequently.
Add first set of chicken pieces to second set of pieces.
When chicken is hot, add soy sauce mixture.
Pour water into pan used for soy sauce mixture. Swirl in pan and add to chicken.
Stir well.
When mixture thickens (just a bit) add vegetables.
Stir thoroughly and warm through. Might take a minute, covered.
Serve over rice.