Chicken With Veggies in Sour Cream Sauce
MsSally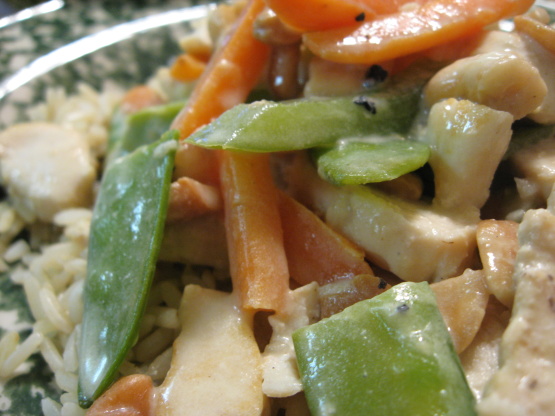 A different slant on a stir fry. Add some red pepper flakes for a little heat. From a food blog with modifications.

Oh My Caroline....This was great. I made exactly as stated, except that I used fat-free sour cream with 1 tsp cornstarch added in to thicken the sauce. So tasty, I also added some carrots, and had to use green pepper cause that was all I had. Served over brown rice.
In a large cast iron skillet or wok, heat oil over medium-high.
Add chicken and garlic - cook for about 4 minutes.
Add cashews, bell pepper and snow peas - cook until tender, about 2 minutes.
Add chicken broth, reduce heat and simmer for 8-10 minutes or until chicken is cooked through.
Move chicken and vegetables (keep any liquid in pan) to a bowl and keep warm.
Whisk in sour cream, Dijon and honey to juices in skillet and heat only until warmed through.
Pour sauce over chicken mixture and toss to combine.
Serve over rice, noodles or mashed potatoes.