Chicken With Tomatoes & Mushrooms
AmyMCGS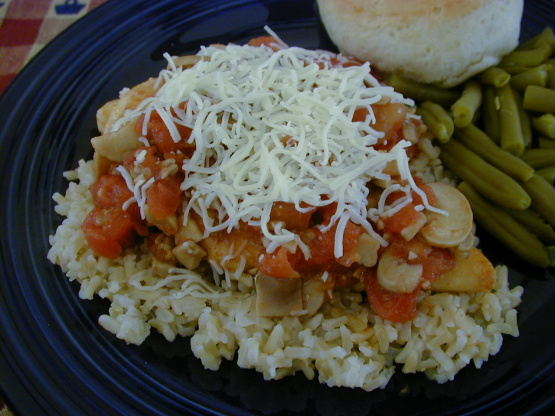 I made this up, trying to imitate a dish from a restaurant. It didn't come out like I was aiming for, but it did come out VERY good, so I thought I'd post it. My husband devoured it in about 5 minutes, he liked it that much.

This was ok, but both DH and I said that something about the flavors of the seasoned salt with the tomato/mushroom combo wasn't quite right. I used Lawry's Seasoned Salt and canned tomatoes (I didn't have any fresh), so that could have been the problem. It made an attractive plate and was quick and easy to make.
Pound chicken as thin as you like.
Sprinkle with seasoned salt.
Spray a frying pan with cooking spray (or butter if you want more flavor) and cook chicken about 5 minutes on both sides, until no longer pink in the center.
Meanwhile, spray a small saucepan with cooking spray (or butter) and add garlic.
Cook garlic about 2-3 minutes.
Add mushrooms and tomatoes to garlic, and cook until the mushrooms have softened.
Cook rice according to how you like it.
Lay 1/2 cup rice (each) on 2 dinner plates.
Put chicken on top of rice, and top the chicken with the mushroom/tomato/garlic mixture.
Top that with the shredded cheese.