Chicken With Tomatoes and Wine
Derf2440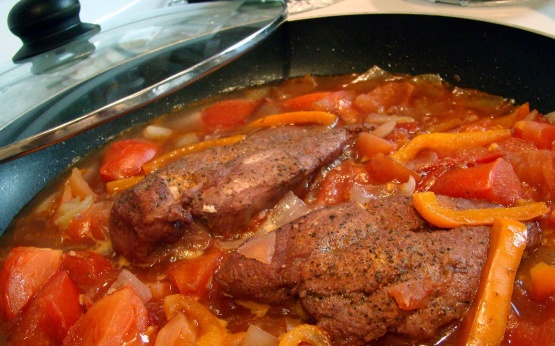 This recipe is easy and all the ingredients are likely to already be in your fridge. I got this recipe from my friend when I was going crazy thinking of what I should make for dinner. The result was great and impressed my guests.

mmm DH really loved this chicken! I used a lovely Merlot wine, orange sweet pepper and fresh garlic. the cook time was perfect, after 10 minutes I turned the chicken over so that it would pick up the wine colour on both sides. I used adobo seasoning, lovely! It was delicious! Thanks for posting I will be making this again; I just made half a recipe, I would love to do it for guests sometime.
Saute onion, garlic and pepper.
Season chicken (parsley, oregano, thyme, adobo, olive oil, whatever way you like).
Add chicken, tomatoes, and wine.
Cook on medium-low flame, covered, for about 20 minutes or until inside of chicken is no longer pink.
Serving suggestion is white rice.