Chicken With Sweet Peppers and Tomato
Zurie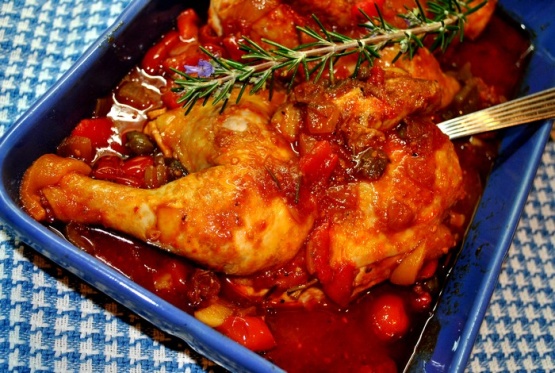 A quick way to make a large pot of food with no hassles. Ideal for the beginner cook. It improves on standing, too, so you could make it and reheat it later, or cool and leave in fridge for the next day. Freezes very well. Please see the adaptations suggested at the end.
8

chicken portions, generous, with skin and bone

1

onion, chopped

2

bell peppers, various colours, chopped

2

tablespoons oil

14

ounces tomatoes with juice, canned (1 tin)

4

tablespoons ketchup (made with real tomatoes!)

2 -3

tablespoons sugar (yes, really, or substitute)

3

tablespoons balsamic vinegar

1

tablespoon capers (optional)

2 -3

sprigs rosemary (or use dried, to taste)

4

garlic cloves, chopped
(Although the chicken pieces will be your personal choice, it will really be more flavoursome to forgo the usual skinned and boned chicken breast, and rather use skin-on, bone-in pieces such as 4 legs and 4 drumsticks, OR cut up one whole chicken).
In a large pot, fry the chopped onion and bell peppers over quite high heat, stirring now and then.
(If they threaten to burn, add 1/4 cup chicken broth or water).
When they've softened, add the tin of tomatoes (whole or chopped), ketchup, the sugar, balsamic vinegar, capers, whole sprigs of rosemary and the garlic.
Bring to the boil, stir well, then add the chicken pieces and stir again.
Turn heat to low and put on lid. Simmer 30 minutes.
Season with a seasoning salt of your choice (it needs the extra oomph). TASTE: sauce should be tangy but not acidic or sweet. If not to your taste, add vinegar/lemon juice, or sugar.
Serve with brown rice, a green vegetable and a salad.
* ADAPTABLE: use less tomato and add 4 oz. pimiento-stuffed olives, each cut in half.
* Use less tomato and add 4 oz. black olives.
* Spike pot with hot chilli pepper to taste.
* Use half the tomato from the can, and add 4 - 6 oz crumbled feta cheese at end of cooking.
* Worcestershire sauce can also be added.