Chicken With Spinach, Garlic and Tomato Sauce
loof751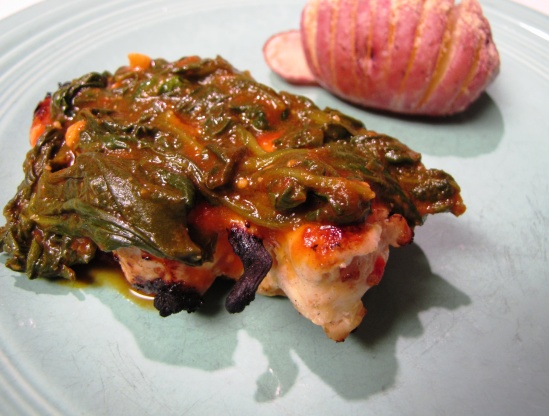 A great Spanish influenced recipe!

I love this dish!

This is a nice dish you can make on you grill on a hot day.

What made this dish so nice was the topping. I could see using this topping on a nice turkey burger or evan a grilled steak. Oh would that be soo good to try.

Great dish~ Now I am hungary again!
Grill chicken breasts for 5 minutes on each side, until cooked through but not dry.
Meanwhile, lightly brown the garlic in the oil in a nonstick skillet over medium-high heat.
Add the spinach and cook, tossing gently, just until leaves are wilted.
Add the tomato sauce, tamari and wine.
Toss well until coated and thoroughly heated.
Place spinach mixture on top of cooked chicken breasts.
Makes 4 servings.