Chicken With Sourdough-Mushroom Stuffing
WiGal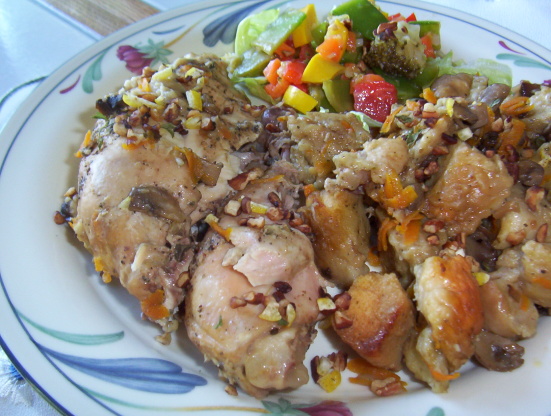 This one-dish meal is just a matter of rubbing an aromatic lemony seasoning on the chicken, tumbling the stuffing together by using big chunks of sourdough bread combined with mushrooms, and layering everything into the pot to cook.
Lightly coat the inside of a 5-1/2- to 6-quart slow cooker with cooking spray. Reserve 1 teaspoon of the lemon peel. In a small bowl combine remaining lemon peel, sage, seasoned salt and pepper. Remove 3/4 of the mixture and rub onto chicken legs. Place chicken in slow cooker.
Melt butter in a skillet, add mushrooms and garlic.
Cook and stir 3 to 5 minutes or until just tender.
Stir in sage mixture.
Transfer mushroom mixture to a large bowl. Add bread cubes, and shredded carrot. Drizzle with chicken broth, tossing gently.
Lightly pack stuffing on top of chicken. Cover and cook on high-heat setting for 4 to 5 hours.
Transfer stuffing and chicken to a platter.
In a bowl combine reserved lemon peel, walnuts, and parsley; sprinkle over chicken.