Chicken With Sour Cream Sauce
JustJanS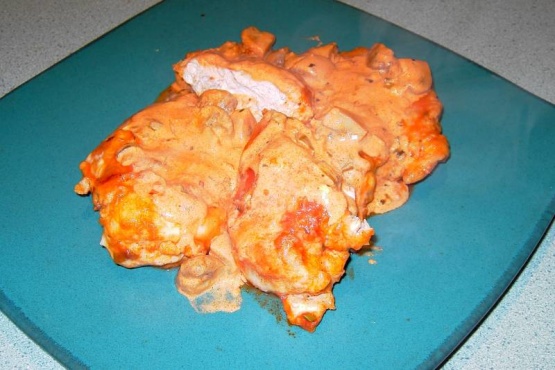 This is a delicious tasting chicken recipe with a "zip" to it. The vinegar in the sauce does it. The preperation takes some time, but it's worth it. My father-in-law used to make this and it's one of our favorites.

I'm sorry, but this had too much "zip" to it. I used a really good, mellow red wine vinegar, so i thought i would try the full half cup. It was way too m uch for us-I think a couple of tablespoons would have done. One other small problem I din't have time to query. 1/4? of mushrooms.
Pound the chicken to 1/4" thick.
Dredge chicken in flour w/salt& pepper.
Combine butter& oil in a large skillet over medium heat.
Saute chicken for 2 minutes on each side.
Remove when lightly browned on both sides.
Add more oil or butter if needed.
Saute garlic, shallots, and mushrooms.
Add vinegar.
Add sugar, seasonings and tomato paste.
Scrape all brown bits from pan and mix in with the sauce.
Return chicken and cover.
Cook for 5 minutes Add sour cream and heat an additional 3 minutes.
Serve over rice or pasta.