Chicken With Smashed Baby Red Potatoes Pot Pie Style
Bev I Am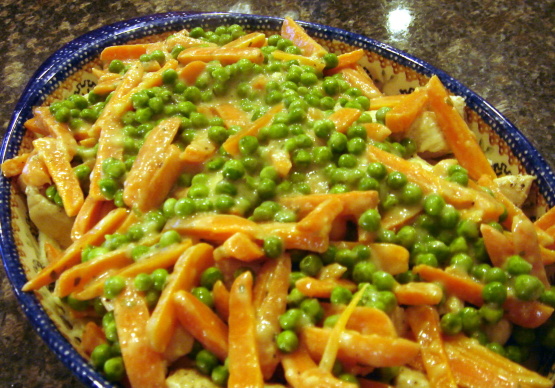 This is an easy way to make a chicken potpie-like dish minus the crust. Sauteed chicken breast is served over smashed baby red potatoes and is then covered with a cream sauce with carrots and peas added to it. Bake some biscuits to go along with this dish and you have comfort food to please everyone in your family.

This was some good comfort food. I added some half and half to the potatoes, since mine seemed dry. I ended up doubling the sauce, since most of my liquid evaporated by the time the carrots had cooked. Mine turned out like Bev's photo1 Thanks marie, for posting. Roxygirl
Cook potatoes in water for about 12 minutes or until tender.
Sprinkle chicken with salt and pepper to taste.
In skillet, heat oil over medium high heat, add chicken and cook for 6 minutes.
Turn chicken over, reduce heat, cover and cook for 8 minutes more.
Transfer chicken to plate to keep warm.
To same skillet, add carrots, broth, cream and dried tarragon, cover and cook over medium high heat for 5 minutes or until carrots are tender.
Remove skillet from heat and stir in peas.
Coarsely mash potatoes with margarine and salt and pepper to taste.
Spoon potatoes onto serving dish, top with chicken and pour vegetable cream sauce mixture over.
Note: If sauce is not thick enough, mix together a tablespoon or so of flour with a little water and stir into sauce before adding peas and allow to cook for a few minutes longer.