Chicken With Shallots in White Wine
ImPat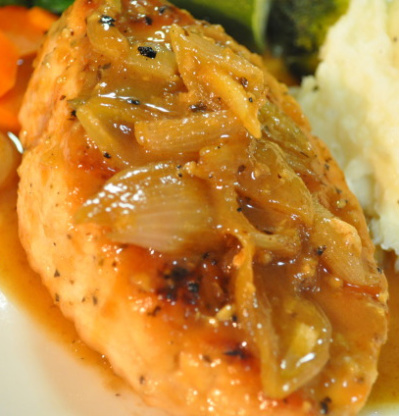 I created this recipe one night out of desperation, since my pantry was almost bare. It turned out that my husband loved it!

Absolutely lovely, thank you. I adjusted all the ingredients to bring the liquid up to 1 full cup of broth and 1 full cup of white wine. Actually I used 2 stock cubes in one cup of water. And I have enough leftovers to make into pies for tonights dinner. Really tender chicken which I served with crunchy baked potatoes, peas and corn.
Pound chicken breasts to 1/4-inch thickness.
Combine flour, basil, marjoram and black pepper in a bowl.
Dredge chicken breasts in flour mixture (no need to dredge in egg/milk prior to dredging in flour mixture).
Heat 1 tbs. olive oil in a large skillet and saute shallots and garlic until tender but not opaque.
Remove shallots and garlic from skillet to a separate dish and cover.
Add 1 tbs. olive oil to the skillet and brown both sides of chicken (about 3 minutes on each side).
Combine chicken broth and wine in a small bowl.
When chicken is browned, add shallots and garlic back to skillet (on top of and around chicken).
Add broth and wine mixture to skillet.
Simmer on medium-low to low heat for 15 - 20 minutes or until liquid reduces to a thin gravy-type consistency.
Serve over pasta or rice.