Chicken With Raspberry Cream Sauce
Kats Mom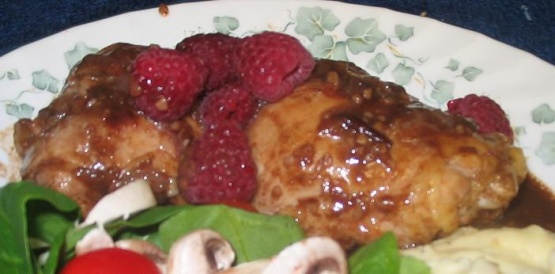 So easy. I got this recipe years ago from a friend. Her mother had given her the recipe. The cream made it a little different from the other recipes I read (and more fattening too)! This can be doubled to feed four and so on which is a good thing since my kids like this a lot.

Outstanding! I used Raspberry vinegar, omitted the garlic and added 1/4 cup of Tomato sauce and 3/4 cup of chicken broth to make it more savory rather than sweet. Our guests gobbled up my second batch and have asked to to pass on the recipe not only to themselves but to their friends as well.
Season the chicken with salt and pepper to taste. In a skillet, heat the oil and melt the butter and saute the chicken over medium heat.
After about 5 minutes, add the onion and garlic, if desired. Cook until the chicken is cooked through and the onions are tender.
Remove chicken from the skillet and set aside. Add the jam and vinegar to the pan and stir.
Boil for 1 minute and stir in cream and heat until boiling.
Return chicken to the skillet and heat for a few minutes; turning the chicken in the sauce.
Can garnish with fresh raspberries and serve.