Chicken With Piquillo, Tomatoes, and Olives
Marlitt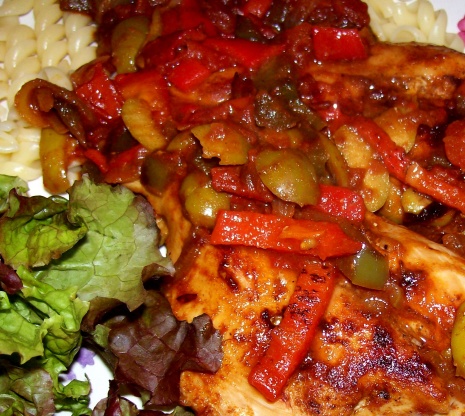 Pollo Con Paquillos Tomates y Aceitunas. Sweet and slightly piquant piquillo peppers, which are grown in northern Spain, are roasted over an open fire, peeled and packed into jars.

Make this! Just do it. It is the only way to understand what a fantastic combination of flavors this dish has. I made just as written, no substitutions. So good. Thanks for sharing.
In a cup, combine salt, pepper and paprika; sprinkle on both sides of chicken.
In a large skillet over medium-high heat, heat oil until hot. Add chicken, green peppers, onion and garlic to skillet; cook, stirring frequently and turning chicken to brown on both sides, about 5 minutes. Remove chicken from skillet.
Add tomatoes and bouillon granules; cook uncovered, stirring until tomatoes are softened, about 10 minutes. Return chicken to skillet. Reduce heat to medium; cover and simmer until chicken is cooked through, 10 to 15 minutes.
Stir in piquillo peppers and olives and cook just until heated through, about 2 minutes. Serve over saffron rice, if desired.