Chicken With Pineapple Sauce (Ww 5 Points)
alligirl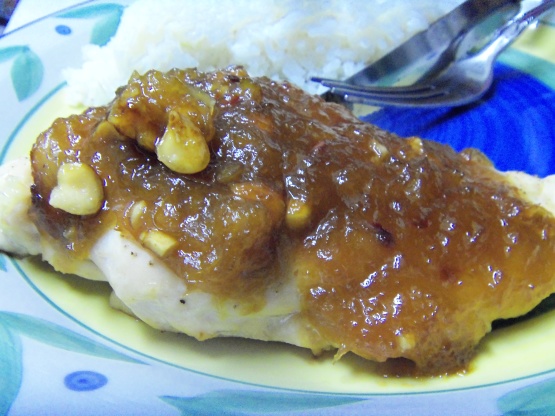 Very tasty, easy and great with rice! And healthy too!!

I thought this was really good - and even my husband, who complained that he "doesn't like fruit in his food," cleaned his plate!! I browned the chicken first with some veggies (zuchinni, green peppers and onions), cut it up in strips and baked it in the sauce for 30 minutes. Yummy!
In a saucepan, combine brown sugar and cornstarch.
Stir in pineapple, soy sauce, garlic salt and ginger.
Cook and stir over low heat until thickened.
Place chicken in a greased 9 inch square baking dish.
Pour half of the sauce over chicken.
Bake, uncovered, at 350F for 15 minutes.
Baste, bake 15 minutes longer or until chicken juices run clear, basting several times with the remaining sauce.