Chicken With Pepper and Pineapple - Crock Pot
Derf2440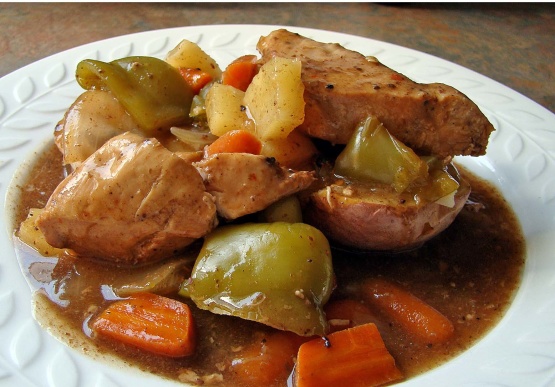 Nice tickley chicken, lots of taste. Serve over mounds of rice.

The recipe was good and easy to make. It's not one of the best recipes I've had, but it's tasty and very healthy. I might do it again, but add sweet-n-sour sauce or some other thick sauce.
Mix chicken, carrots, broth, ginger root, brown sugar, soy sauce, allspice and pepper sauce in a 4-5 quart crock pot, slow cooker Cover and cook on low heat setting 7-9 hours or until veggies are tender and chicken is no longer pink in centre.
Mix cornstarch and reserved pineapple juice, gradually stir into chicken mixture.
Stir in pineapple and bell pepper.
Cover and cook on high heat setting about 15 minutes longer or until slightly thickened and bubbly.