Chicken With Parmesan Cream Sauce
teresas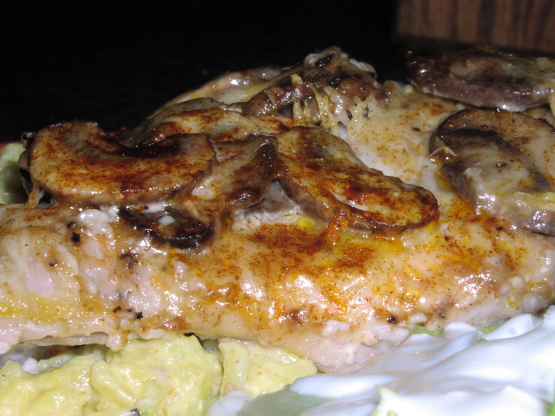 If you want an impressive dinner with a short ingredient list and easy preparation, consider this recipe. Such an easy dinner to prepare and you can feel comfortable enough to serve this to guests. *Prep time does not include refrigeration*

Yummy! I didn't have boneless skinless chicken breasts so used bone-in skinless thigh/leg quarters - I doubled the recipe so there would be leftovers. :) For the mushrooms I used baby bellas - since they are my favorite. I prepared this dish the night before and let it sit in the fridge all night and all the next day until ready to put in the oven. Since I used bone-in chicken - I opted to lower the oven temperature to 375 degrees and baked for 1 hour 15 minutes. It may have been too long - but I wanted to make sure there wasn't any pink. lol The meat was so moist and juicy and tender. I removed the chicken from the pan and left the cream. I added some pasta to the cream with some garlic salt, pepper and additional parmesan cheese. Mixed it all together for an "alfredo" kind of pasta. Went really well with the chicken! Thanks so much for sharing. Made for the March 2010 Aussie/NZ recipe swap.
Melt 3 T. of the butter over low heat (or in the microwave).
Coat the chicken in the flour then dip in the butter.
Arrange the chicken in a 9x13 baking dish.
Melt remaining 3 T. butter in a skillet.
Add mushrooms and saute until softened.
Spread the mushrooms over the chicken.
Pour in the cream.
Season with salt and pepper.
Top with the parmesan cheese.
Chill, covered with plastic wrap, in the refrigerator for about 12 hours.
Preheat oven to 400 degrees.
Sprinkle paprika over the chicken.
Bake, uncovered, 20 to 30 minutes.