Chicken With Orange-Chipotle Glaze
2Bleu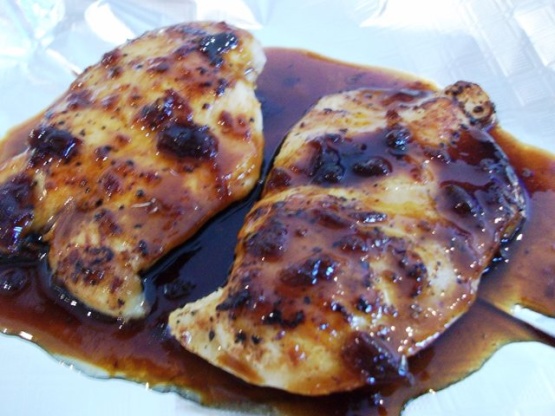 This yummy chicken can be grilled or broiled. I use boneless, skinless breasts but thighs or legs could probably be used too...

I knew i would like this, but I liked it even more than I imagined. I only used half the amount of chipotle because I am a heat whimp, but otherwise I left the ingredients alone. I broiled boneless breasts and thighs in the oven. Of course the thighs were done first , so I pulled them out first. The sauce clung nicely to the meat and didn't all run off, even after I flipped the chicken pieces. I am absolutely hanging on to this one.
Whisk together the orange juice concentrate, chipotle pepper, balsamic vinegar, molasses, and mustard.
Season chicken with salt and pepper and grill or broil 2 minutes.
Turn chicken and brush with glaze. Cook 5 minutes longer, brushing occasionally with glaze.
Turn chicken again and brush well with glaze. Cook until done - center of chicken should no longer be pink - 2-3 minutes longer.