Chicken With Mushroom Frittata
Shasha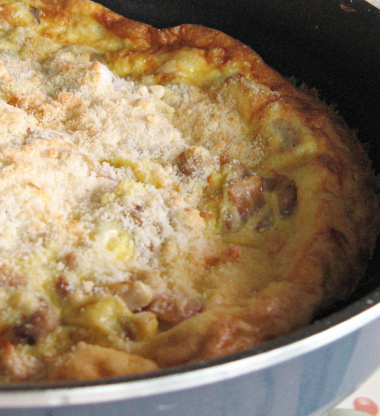 From a web site. My hubby loves this in his lunch box. I substitute other veggies too in this like zucchini, spinach etc.

Top Review by Shasha
Great recipe! I had leftover roast chicken and didn't know what to do with it. I also kind of changed some things, like using parmesan cheese instead of cheddar, and doing away with the green onions and parsley (since I didn't have any at that time). I also sauteed the chicken and mushroom together, then dumped the eggs. I cooked the eggs a little on the stove, and then finished it off in the oven.
In mixing bowl, stir together eggs, milk, salt and pepper.
In separate bowl, combine chicken, mushrooms, green onion and parsley.
Heat cooking oil in an 8-inch ovenproof skillet; Add egg mixture.
Cook over medium-low heat.
As eggs set, run a spatula around the edge, lifting to allow uncooked portion to flow underneath.
Cook until eggs are almost set, but surface is still moist.
Press chicken mixture into top of egg mixture.
Broil 4 to 5 inches from heat for 1 to 2 minutes or until set.
Top with cheddar cheese and broil few seconds more until melted.