Chicken With Mushroom Cream Sauce
gailanng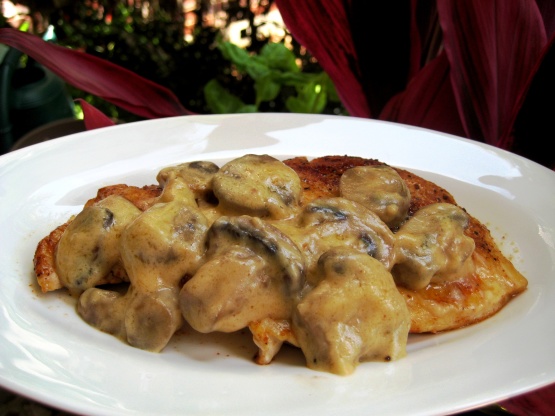 ABSOLUTELY DELICIOUS! Tender and moist pieces of chicken in a savory mushroom cream sauce. A specialty dinner to impress your family. Easy and quick preparation! (I have used chicken tenders with success.)

This was delicious! A great dinner party recipe. It is rich, so I would serve with something light.
Pound chicken breasts with a meat mallet to flaten.
Sprinkle chicken breasts with salt, basil and thyme. Using a large saucepan over low heat, saute chicken breasts in olive oil until juices run clear -- approximately 10-15 minutes. Turn heat off, cover with lid and allow chicken to remain in pan for 10 minutes.
In a small saucepan saute mushrooms in olive oil. Add minced garlic and wine.
Remove chicken from large saucepan to a plate.
Place mushroom mixture in large saucepan and stir to loosen brown bits from bottom of pan. Allow mushrooms to simmer approximately 2 minutes.
Add heavy cream. In a small cup, dissolve cornstarch with cold water and add to cream. Heat and stir until sauce thickens.
Place chicken breasts back in pan and spoon sauce over chicken. Allow chicken to reheat. Sprinkle parmesan cheese on top. Serve with pasta of choice.
Enjoy!